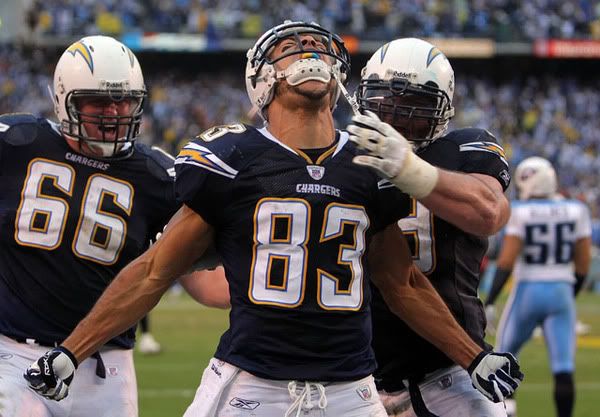 (Photo courtesy of http://media.photobucket.com/image/recent/pancakebaby88/vjtd-2.jpg)
The NFL free agency circus kicked off today with several notable transactions involving high-profile wide receivers.
Brandon Marshall – WR, Dolphins –> Bears 
Marshall is headed to the Windy City, as Miami has put together a trade with Chicago. The upside is clear for the Bears, as this gives QB Jay Cutler a top-notch target. However, we're not sure what the ultimate end here is for the Dolphins, as it was assumed that Marshall was part of the package that would attract Peyton Manning. It looks the Dolphins, who've brought in a new HC and OC, are either looking to bring in some fresh personnel or trying to clear cap space so they can in fact pursue Manning, as well as other weapons. Marshall did have some behavioral/fit issues in Miami, which might have been a factor in his departure. If we don't see the Dolphins quickly jump in the free agent market for other wide receivers, this is probably a sign that Miami is no longer in the running for Manning and will be looking at alternative growth strategies.
Randy Moss – WR, No Team –> 49ers 
The 49ers inked Moss to a 1-year contract; the deal is considered "low-risk", and the team can release him at any time. However, we now have one of the most authentic "we'll just have to wait and see" situations professional sports has ever seen. The 49ers, despite reaching the NFC Championship Game last year, desperately needed a vertical threat, and Moss may be their answer. But while we all know what Moss can do when he's right, we also know that he's a huge wild card.
First, does he still bring the same physical talent to the table? Moss last played football in 2010. It was a disastrous campaign, as he bounced around to several teams, and on the field, appeared sluggish and unable to create separation. He reportedly has looked like "the old Moss" in his workouts with the Saints and 49ers, but we'll just have to see if that translates to actual games that count. Second, Moss has notoriously questionable drive and, at times, a toxic personality. Many analysts have pointed to how behaved and productive he was in his stint with New England from 2007-2009. There, he was part of a winning program and culture largely shaped by Bill Belichick and Tom Brady and also surrounded by motivated, talented teammates. Jim Harbaugh has created a similar atmosphere in San Francisco, but is it as unshakable? Harbaugh is only in his second year, and QB Alex Smith has just gotten his first taste of real success and is still growing into his role as the team's leader. Harbaugh, however, the self-described "jackhammer", is a no-nonsense coach; hopefully he'll be able to demonstrate good judgment when it comes to Moss and the impact he's having on the 49ers.
Pierre Garcon – WR, Colts –> Redskins 
Garcon is headed to the Washington Redskins, where he'll most likely be catching passes from RG3 next season. Garcon's contract year couldn't have gone much better, as he put up career numbers even without the help of legendary QB Peyton Manning. This is one of probably several moves that Redskins owner Dan Snyder will make to build a solid supporting cast for whatever young QB he's going to take with the #2 selection in the upcoming draft. At this point, all signs are pointing to RG3, last year's Heisman winner, as the Colts appear committed to drafting Andrew Luck. However, it may work out well for Washington, as Griffin is a great match for Mike Shanahan's offense. Garcon will also fit in well, as he's able to consistently nab YAC. Redskins may have overpaid for Garcon, but if he helps Griffin get off on the right foot, no one will be complaining.
Marques Colston – WR, Saints –> Saints
Colston is staying put, as he's signed a 5-year, $40 million deal with New Orleans. This is great news for the Saints; Colston is a big, sure-handed target for QB Drew Brees, and they'll most likely lose WR Robert Meachem to another suitor in free agency.
Vincent Jackson – WR, Chargers –> Bucs 
The Bucs needed some excitement and a No.1 wide receiver, and with their aggressive play to get WR Vincent Jackson, they got both. Jackson is horse with that rare combination of size and athleticism. He'll be a great weapon for Josh Freeman, whom the team believes has the talent and ability to be a star QB.
Related Posts: