I'm a huge Jacksonville Jaguars fan, and I love Tim Tebow. However, I think this worked out for the best — for all parties involved.
There is just a lot of uncertainty when it comes to Tim Tebow. Can he repeat last year's success? How much of last year's success was attributable to the Denver Bronco's defense? Denver's running game? Opposing teams being caught off guard? Can he continue to win with his unorthodox style of quarterbacking? Will he develop into a better passer?
It's just very difficult to get a read on what the future holds for Tebow or what type of player he'll become. However, he does do a lot things well right now, and I think the New York Jets are a team that could get a lot of production and mileage out of his current strengths and skill set. The Jets have been creative on offense in the past (e.g. Brad Smith), and Tony Sparano helped popularize the wildcat offense during his tenure with the Miami Dolphins.
Tebow could be an effective complement to Mark Sanchez's more traditional pocket game and a legitimate weapon as a runner, option QB, and, yes, occasional passer (while Tebow isn't going to dagger you 25-30 times a game, need I remind you of the 80-yard touchdown strike he delivered when the Pittsburgh Steelers became overly concerned with Denver's ground game in last year's playoffs?). And, at first glance, it's hard to envision the pious, church-going Tebow warming up to the Big Apple, Rex Ryan's brashness, or the Jets' "bad boy" locker room.
However, the Jets desperately need some PR rehabilitation, and Tebow's squeaky clean wholesomeness could be the perfect antidote. New York, in return, may offer Tebow some cover from the intense scrutiny and negative media attention he received last year. Yes, I know, New York is a press jungle. But with its myriad sports teams and countless distractions, Tebow's faith and such will be less of a story. New York offers more sensations and scoops for reporters to bounce between, and plenty of people are always shooting themselves in the leg foot.
Jets Nation and Tebow are certainly a great match when it comes to football passion and intensity, and I'm sure it will be refreshing for him to go somewhere he's actually wanted.
Down South, Jacksonville may have only experienced a temporary euphoria if they had nabbed Tebow. Yes, it would have been exciting, and in the short term, it probably would have resulted in increased ticket sales. However, the best long-term solution for a struggling franchise is winning. And winning in today's NFL means being able to effectively move the ball down the field through the air. Look at the New England Patriots; they had one of the worst defenses in the league last season, yet they nearly won a Super Bowl on the strength of their air attack.
Thus, Jacksonville, rightly so, is committed to developing their vertical passing game, and that's why they are sticking with Blaine Gabbert. While, so far, he's not exactly likeable and his rookie year was a statistical disaster, at 6'5″ with a strong arm, athleticism, and smarts (42 on the Wonderlic — I know, I know; this doesn't necessarily translate to "football" smarts. But still, it's nice to know he's not a moron), he theoretically/on paper gives Jacksonville's offense a better chance to be successful/competitive in modern-day professional football.
Yes, there are also uncertainties with Gabbert. How much of last year's suckiness was attributable to his own lack of talent? Adjusting to the NFL? Lack of a full off-season? Jacksonville's sub-par receiving corps? Personnel changes? Will he be less skiddish next season? More accurate? However, if I'm Gene Smith and the Jacksonville coaching staff, I'd rather deal with this set of uncertainties than Tebow's. There are still a number of problems around Gabbert that need to be addressed, and I don't think we're at the point quite yet where we can conclude that Gabbert himself has serious structural and fundamental deficiencies as a quarterback. Jacksonville is making an effort to move the program in the right direction, and for now, Gabbert is the guy.
They've also brought in new quarterbacks and wide receivers coaches and an offensive-minded head coach in Mike Mularkey, who in his his time as the offensive coordinator for the Falcons, played an instrumental role in bringing along Matt Ryan, a young, successful pocket-passing quarterback.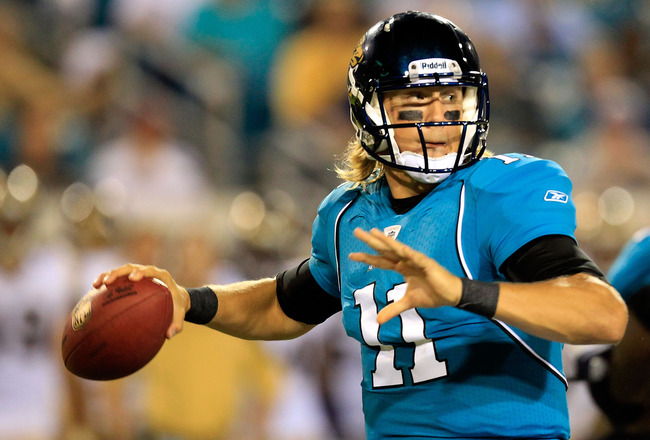 For Jacksonville, what's been more frustrating and disappointing has been their lack of aggressiveness in pursuing a proven wide receiver in free agency. If you're trying to build and energize the passing game, you need to acquire some solid targets that Gabbert can throw to. I was looking for Jacksonville to pick up a sure-handed veteran receiver off the free agent market and then possibly select a young play-making receiver in the first round of the draft. BOOM — receiving corps enhanced. I really hope Laurent Robinson turns out to be the deep threat and redzone menace Jacksonville's front office thinks he can be. However, blurbs like this one from Rotoworld's Gregg Rosenthal aren't exactly comforting:
"Laurent Robinson figures to be the most overpaid player in free agency. He's making more than $11 million in 2012. I'd put his over/under of yardage around 650. At best. He's been on four teams in five years. Guys like that rarely create lasting success.  It wouldn't be a shock if he was one and done in Jacksonville."
Forgive me if I'm skeptical, but Jacksonville fans have seen this script before: Jacksonville identifies a receiver who is "undervalued", "on the rise", or "talented and trying to re-establish himself", only to have him be a huge letdown once he arrives (see Jerry Porter, Troy Williamson, Torry Holt, Jason Hill, ). Let's not even talk about wide receiver draft busts (see Reggie Williams, R. Jay Soward, and Matt Jones).
So yeah, it would have been encouraging to see Jacksonville make a bold move for a physical, match-up migraine like Vincent Jackson or Marques Colston…or a 2/3 slot, big-play guy from a winning program like Mario Manningham or Robert Meachem...or Brandon Lloyd, who actually has turned his career around…or even the elderly Reggie Wayne, who probably still has some gas in the tank and at least would be a great mentor on a fledgling offense.
But, it's possible that Laurent Robinson could have a breakout year, and like I said, that's what I'm hoping for. It's actually in Brandon Lloyd's story that Jacksonville fans can find hope: after underperforming for 3 different teams over the course of 7 seasons, Lloyd led the league in receiving and went to the Pro Bowl in 2010 and has since remained a top-notch receiver.
Free agency isn't over, but most of the high-profile names have been signed. Let's hope Jacksonville makes the most of the draft and takes some meaningful steps towards uncovering those tarps.
Related Posts: